#10 Michael Manley
Why 'Top Ten Greatest Jamaicans'?
Well why not. Fifty years of independence is a long enough time to reach some agreement about which of this country's sons and daughters have fought for justice and equality, and given Jamaicans pride in themselves as a people. And is this not a reasonable definition of greatness?
Many will naturally disagree with my judgements. But wouldn't it be a rather boring world if we all agreed on everything all the time? In fact it would be nice if this list helped to kickstart a national debate on the subject. So the more 'Yuh is a idiot who don't have a clue what yuh talking bout' responses the better!
My list is based on a fair bit of reading, many on the ground conversations, and a few 'who is the greatest Jamaican' john public polls. My views don't coincide completely with those on the street, but there is much overlap. The greatest difference is probably historical perspective. Most regular folk are too busy getting on with life to think much on the distant past. Only historical dabblers have time to compare what was and what is.
So who's number 10? Well let's examine the pros and cons of three potential candidates. They are respectively: the most famous living Jamaican of all time, the most popular Prime Minister ever, and the person who has probably contributed to more areas of national endeavour than anyone else. Namely Usain Bolt, Michael Manley and Edward Seaga.
Usain Bolt is unquestionably the greatest sprinter in history, and maybe the most famous athlete since Mohamed Ali. Actually in Ali's heyday most Chinese and Indian peasants – roughly a third of the world population – had no access to outside world news. So Usain is probably more instantly recognizable than any active sportsman who ever lived.
His fame is due not only to his hitherto unmatched speed, but the wonderfully exuberant yardie style in which he wins and celebrates. Which Jamaican's heart has not soared while seeing Bolt decimate the rest of the world, and then making everyone around him smile and laugh? 'Come to Jamaica and feel alright!' He unquestionably makes us proud of ourselves as a people.
Still, he has dedicated his life to simply running as fast as he can, and has not to my knowledge expressed much interest in anything but being the best he can be in his field. This is not a criticism of a young man who has, all things considered, handled his unprecedented fame marvellously well, so far. But others on this list have consciously fought for justice and equality and the betterment of others.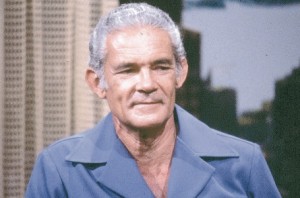 Michael Manley was certainly one of these. Even today the tone of his speeches still resonate with many Jamaicans. He simply made them feel good about themselves, and raised their sense of self-worth. And he broke down social barriers and championed enlightened laws such as paid maternity leave and the 'anti-bastardy' act. Many also give him credit for being able to go to school and earn university degrees and all the benefits they bring. Every poll taken shows him our most popular Prime Minister.
Yet under his 1972 to 1980 stewardship Jamaica's average per capita income fell by over 30%. His critics bluntly attribute this to economic mismanagement. Sympathisers cite extenuating circumstances like the cold war and oil crisis. But many other countries in similar situations as Jamaica (e.g. Barbados, Bahamas, Dominican Republic) substantially improved their material well being over the same period. Man cannot live by bread alone, but bread is also the staff of life. All fine words aside, the ordinary Jamaican's standard of living declined considerably under Michael Manley's first tenure.
Edward Seaga is the most multi-dimensional leader this country has known, and perhaps no one influenced independent Jamaica in so many ways: an anthropology pioneer; a driving force behind the popularisation of ska and reggae; an originator of the annual cultural Festival; an award winning poet; one of our more finance ministers; the third longest tenure as Prime Minister.
Many respond with one word – Tivoli. The May 24th to 27th 2010 events in West Kingston, they say, trace right back to the 1965-1966 demolition of Back a Wall and building of Tivoli Gardens. Even if not the originator and certainly not the sole practitioner, his detractors charge that Edward Seaga institutionalized the garrison concept, and is highly responsible for all the ills that have flowed thereof.
Many pluses and minuses all around, but a final decision must be made. When in doubt, it's no bad thing to go with the public's choice. So my number ten greatest Jamaican is Michael 'Joshua' Manley. Let the cheers and boos begin.
Adapted from Jamaica Fi Real: Beauty, Vibes and Culture
#9 William Knibb – Unacknowledged National Hero?
When the white English missionary William Knibb was posthumously awarded the Order of Merit in 1988, Devon Dick wrote
'No other person of his era demonstrated such faith in the prowess of the black people.
For Knibb's work as Liberator of the slaves;
For his work in laying the foundation of Nationhood;
For his support of black people and things indigenous;
For his display of great courage against tremendous odds;
For being an inspiration then and now.'
Knibb came to Jamaica in 1824 and grew into slavery's most uncompromising enemy.
'The cursed blast of slavery has, like a pestilence, withered almost every moral bloom. I know not how any person can feel a union with such a monster, such a child of hell. I feel a burning hatred against it and look upon it as one of the most odious monsters that ever disgraced the earth.'
He made enemies among slave owners, and was placed under armed guard during the 1831 Sam Sharpe Rebellion. The 'Colonial Church Union' burnt down his Falmouth chapel, plotted to murder him, and stoned his home. Under siege, the Baptists sent Knibb to Britain to report first hand the situation in Jamaica.
'The anti-slavery feeling in Britain was not then widely diffused or intense. Knibb changed this by travelling six thousand miles in five months, attending 154 public services and addressing 200,000 people throughout Scotland, Ireland and England. No one else did a tenth of his work.' [Dick]
The Baptist Missionary Society relied upon the goodwill of planters, and so did not openly support the emancipation movement, instructing missionaries not to interfere in civil affairs. Knibb's speech at their public Annual Meeting on June 21, 1832 changed their stance.
'I call upon children, by the cries of the infant slaves who I saw flogged… I call upon parents, by the blood streaming back of Catherine Williams , who… preferred a dungeon to the surrender of her honour. I call upon Christians by the lacerated back of William Black… whose back, a month after flogging, was not healed. I call upon you all, by the sympathies of Jesus'.
At this point, Mr Dyer, Secretary of the Society, pulled his tail coat by way of admonition. But Knibb continued:
'Whatever may be the consequence, I will speak. At the risk of my connexion with the Society, and of all I hold dear, I will avow this… Lord, open the eyes of Christians in England, to see the evil of slavery and to banish it from the earth.'
There was thunderous applause, and Dyer himself proposed a public meeting as the next round in the struggle.
On August 15, 1832, in front of 3,000 Londoners, Knibb held up iron slave shackles and hurled them deafeningly to the floor:
'All I ask is, that my African brother may stand in the same family of man; that my African sister shall, while she clasps her tender infant to her breast, be allowed to call it her own; that they both shall be allowed to bow their knees in prayer to that God who has made of one blood all nations as one flesh.'
Knibb's unassailably authentic reports did more than any other source to convince Britons that slavery must be speedily abolished. Less than two years later, on August 1, 1834, it was theoretically terminated by Parliament. But slaves were supposed to endure a further six year 'apprenticeship' before gaining full freedom. Planters abused this provision, but the protests of Knibb and others prompted Parliament to bring forward full emancipation from to August 1, 1838.
In 1839, Knibb founded the weekly newspaper the Baptist Herald and Friend of Africa, giving freed slaves their own voice. He adopted James Phillipo's 'free village' system, and helped raise money to purchase thousands of acres that enabled former slaves to own their own property. He also founded schools and organised teacher training.
On August 1, 1839 — 124 years before Martin Luther King's 'I have a dream' speech — Knibb declared:
'The same God who made the white made the black man. The same blood that runs in the white man's veins, flows in yours. It is not the complexion of the skin, but the complexion of character that makes the great difference between one man and another.' (These words were inscribed on a plaque in the Falmouth Baptist Chapel)
Knibb was the first to see the electoral possibilities of grassroot political organisation, encouraging Baptist church members to endorse pro-slave candidates in the pre-abolition 1830s. When the franchise was broadened in 1840, he organised the black and coloured electorate to challenge the church establishment, creating a new awareness among common Jamaicans of their rights and latent electoral power.
When Knibb died of fever in November 1845, 8,000 mourners attended his funeral.
Adapted from Jamaica Fi Real: Beauty, Vibes and Culture
8 Paul Bogle – Freedom Martyr
By 1865 the American civil war and a severe drought had dramatically increased food costs in Jamaica, while collapsing sugar prices had cut estate wages and made work scarce. In January, Edward Underhill wrote a letter describing 'the extreme poverty of the people' who had to 'steal or starve'. He criticised the Jamaican Legislature for high tax levels and denying blacks political rights.
'Underhill' meetings of persons wishing to change the system sprang up across the island. The people of St Ann even addressed a petition to Queen Victoria, complaining of hardships and asking to be rented Crown land at low rates. The Colonial Office responded with 'The Queen's Advice' telling labourers that 'it is from their own industry… that they must look for an improvement in their condition.'
In August 1865, St Thomas vestry (assembly) member George William Gordon attacked Governor John Eyre for sanctioning 'everything done by the higher class to the oppression of the negroes' and reportedly raised the spectre of Haiti. Gordon's political agent in Stony Gut was Native Baptist preacher Paul Bogle. Chosen in an open air meeting to lay the complaints of the people before the Governor, Bogle led a delegation march 80 kilometres to the then national capital Spanish Town. But they were refused a hearing.
Bogle began to hold secret meetings and drill his men. He visited the Hayfield Maroons to enlist their support, as the Maroons were greatly feared for their violence in quelling unrest. They later claimed to have offered him no encouragement, but Bogle said they had agreed to help him in a quarrel he expected to have with the bukra. 'The Maroons is our back' he said.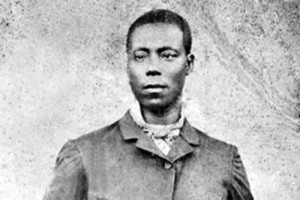 On October 7, Bogle and a group of men were involved in a skirmish with police at court, and arrest warrants were issued. But when the police went to apprehend Bogle, about 300 men disarmed them. Bogle complained in a petition to the Governor that 'an outrageous assault was committed upon us by the policemen… We therefore call upon your Excellency for protection, seeing we are Her Majesty's loyal subjects, which protection if refused we will be compelled to put our shoulders to the wheel, as we have been imposed for a period of 27 years with due obeisance to the laws of our Queen and country, and we can no longer endure the same.'
On October 11, 1865 several hundred black persons led by Bogle marched into Morant Bay. They confronted the white and brown militia protecting the St Thomas vestry, and fighting erupted. By nightfall the crowd had killed 18 people and wounded 31 others, while seven members of the crowd died. Disturbances spread across the parish and martial law was declared. By the time it ended a month later, 29 whites and browns had been killed, and nearly 500 mostly black persons executed in retaliation.
Bogle insisted he was not rebelling against the Queen, and merely wanted 'fresh gentlemen from England'. But whites saw the St Thomas outbreak as a massive conspiracy of blacks intent on taking over the island. It was ruthlessly put down with the brutal help of the Maroons.
Gordon was identified with the rebellion and arrested. He denied involvement, and though seriously ill at the time, was convicted and hung on October 23. Also on October 23 the Maroons captured Paul Bogle, who was also hung the next day.
The harshness of the suppression led to the Jamaica Royal Commission inquiry in England. This praised Eyre for acting promptly, concluding there was no general conspiracy, but that given the 'general excitement and discontent' the rebellion might have spread to other parishes if not quickly suppressed. It condemned him for prolonging the period of martial law, for the injustice of Gordon's trial, and for the barbarous retributions. It attributed the uprising to demand for land, and a breakdown in the justice system.
Trying to avoid the rule of an emerging black majority, the National Assembly dissolved itself and voted for Crown Colony government. So for the next 18 years Jamaica was ruled by a non-elected Governor-appointed legislative council.
Modern Jamaica is often dated from 1866, when the new Governor Sir John Peter Grant began restructuring the administrative apparatus. New courts were established, a new police force was created, and the Church of England was disestablished in Jamaica. Road and irrigation systems were improved, more money was spent on health and education, and in 1872 the capital was moved from Spanish Town to Kingston. The new system of governance was also freer of nepotism and local favouritism, which made civil servants harder to bribe. So in the end Gordon and Bogle did get a good measure of what they bravely fought and died for, fair and competent government.
#7 Mary Seacole — Black Woman Pioneer
Mary Jane Grant was born in Kingston in 1805 to a Scottish army officer and a free creole woman.
Her mother ran the Kingston hotel Blundell Hall at 7 East Street, and was also a 'doctress' versed in the use of African herbal remedies, a knowledge she passed on to her daughter. Many of her guests and patients were British soldiers, often suffering from tropical diseases.
In 1836 Mary married Edwin Horatio Hamilton Seacole, rumoured to be Horatio Nelson's godson, who died in 1844. She was an inveterate traveler, and before marrying visited the Bahamas, Haiti, Cuba, Central America and England, where she complemented her knowledge of traditional healing with European medical ideas. Yet the medical profession of the time was riddled with ignorance and quackery. For instance a study of inquests in 1838 showed that 28 out of 100 neonatal infants died because of the opium used to 'quiet them'. Mary on the other hand was said to have once boasted that she had never lost a mother or child. She inherited Blundell Hall from her mother, and when it burnt down in 1843, rebuilt and expanded it. It is now the site of the National Library of Jamaica.
In 1851 she visited her half brother in Panama. Shortly after her arrival, cholera struck, and she pitched in with her expertise. The rich paid, but she treated the poor for free. On returning home to Jamaica in 1853, she was asked by the Jamaican medical authorities to minister to victims of a severe outbreak of yellow fever. She organised a nursing service at Up-Park Camp, composed of fellow Afro-Jamaican doctresses.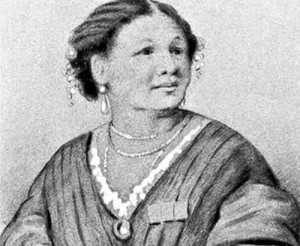 She returned to Panama in 1854, and succumbing to the gold fever in the air, invested in a mine. She read about the cholera riddled British Army in the Crimean War, and 'The inclination to join my old friends of the 97th… and other regiments… took such exclusive possession of my mind that I threw over gold speculation altogether'. She travelled to London to put her extensive knowledge at the army's disposal. At the time, disease was a far greater threat to soldiers than the enemy. Over 21,000 British soldiers died in the Crimean War, but only about 5,000 perished from battle injuries.
Yet despite her expertise in treating cholera, she was turned down by the War Office, the Quartermaster-General's Department, the Crimean Fund, and Florence Nightingale's organisation. The undaunted Mary travelled to the Crimea at her own expense. She visited Nightingale, who had little practical experience of cholera, but her offer of help was refused.  So Mary opened the British Hotel, fondly known as Mother Seacole's Hut, a few miles from the battlefront. Here she sold food and drink to soldiers, using the earnings to finance the medical treatment she gave. Nightingale and her nurses were based in a hospital several miles from the front. But Seacole treated wounded soldiers from both sides on the battlefield, often under fire.
She was mentioned with affectionate admiration in many first-hand accounts of the war, tending the sick and wounded with warmth and good humour, and becoming famous for her fine meals. In fact the most famous French chef of the mid-nineteenth century, Alexis Soyer, considered her an equal. Florence Nightingale mistrusted her, mainly because she served alcohol at her hotel, and prescribed it to her patients. Nightingale aimed to change the system. Seacole simply wanted to make her 'sons' feel better.
The sudden signing of a peace treaty left Mary with a large stock of unsalable provisions and unpaid debts. It was the only failure of her business career. She returned to England destitute and ill. The press highlighted her plight, and a benefit for her in July 1857 attracted thousands of people. She then published The Wonderful Adventures of Mrs Seacole in Many Lands, the first autobiography written by a black woman in Britain. She re-established herself in Jamaica in the 1860s, but then returned to England.
Queen Victoria's nephew Prince Victor, who as a young Lieutenant had been one of her customers in Crimea, carved a marble bust of her in 1871. She also became personal physiotherapist to Alexandra, Princess of Wales, later the queen of Edward VII. On her death in 1881 she left an estate valued at the then significant sum of over £2,500. In 1991 Mary Seacole was posthumously awarded the Jamaican Order of Merit, and in 2004 was voted the greatest black Briton ever.
#6 Sam Sharpe – Emancipation hero
The outstanding leader of the 1831 Christmas slave revolt, often referred to as the 'Baptist War' because of the denomination of most participants, was Deacon Samuel 'Daddy' Sharpe. Wesleyan missionary Henry Bleby described him as the most remarkable and intelligent slave he had ever met.
Sharpe argued that the Bible proclaimed the natural equality of men, and denied the right of whites to hold blacks in bondage. He persistently quoted the text 'No man can serve two masters', which became a slogan among slaves. Sharpe also read newspapers of the day, and came to believe that Britain had freed the slaves, or planned to do so. His sense of urgency was also fuelled by violently anti-abolitionist planters, who openly talked of joining the United States as a slave state, thus postponing emancipation indefinitely. Rumours even spread among slaves that whites planned to kill all black men and keep the women and children in bondage.
What Sharpe had envisaged, a century before Mahatma Gandhi and Martin Luther King, was a movement of passive resistance, a sit down strike of all the slaves in the western parishes. He hoped to force the plantation owners to pay them for their work, and thus affirm their freedom. Drivers on each estate were delegated to tell overseers returning from the three-day Christmas holidays that slaves would work no more without wages.
However if an attempt was made to force them back to the fields as slaves, they would fight for their freedom. To this end a black regiment about a 150 strong was formed, with 50 guns among them, led by Thomas Dove and Robert Gardiner. It was believed that royal troops would not fight the slaves whom the King had freed, so only the planter militia might challenge them in the field. No one was to be killed, except in self-defense. Word was spread in nightly prayer meetings, and Sharpe swore conspirators to secrecy by asking them to 'kiss the book'.
However rumours reached the planters. Troops were sent into St James in case of trouble, and warships were anchored in the harbour. On the last night of the holidays December 27, the occupants of Kensington Great House fled to Montego Bay, and the St James militia marched on the estate to ensure slaves returned to work. The slaves reacted to the militia's presence by setting fire to Kensington estate, which was located on the highest hill in St James. By midnight, 16 other western estates were burning, and a rebellion was on the way, led by some of Sharpe's most trusted lieutenants.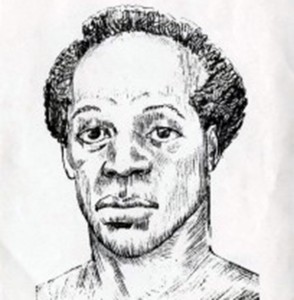 The rebels routed the first militia that confronted them, and roamed over the countryside, destroying plantations. Terrified planters and their families fled, leaving 50,000 slaves suddenly freed and uncertain what to do. Sharpe moved among the estates, counseling and praying, but matters were now beyond his control. Martial law was declared, and the untrained and uncoordinated rebel forces were soon overwhelmed by superior military force. Armed resistance was virtually at an end by the first week of January.
Though property destruction was widespread, loss of life was very low, and even armed rebels fought only against whites who attacked them. Those offering no opposition met with no harm, and there were only two acts of violence against whites throughout. This restraint was noted by a Presbyterian missionary:
'Had the masters when they got the upper hand been as forbearing, as tender of their slaves' lives as their slaves had been of theirs, it would have been to their lasting honour, and to the permanent advantage of the colony'.
The civil authorities retaliated brutally. While less than 20 whites were killed in the revolt, nearly 600 slaves were executed in its aftermath. Perhaps influenced by the jailing of white missionaries like William Knibb and Thomas Burchell, Sam Sharpe gave himself up to the authorities. He admitted responsibility, cleared the missionaries of any blame, and said destruction of life and property was not part of his plan.
Even in jail he never lost his composure, praying and preaching to his fellow prisoners. On 23 May 1832 he was hanged, having told Bleby 'I would rather die upon yonder gallows than live in slavery'. His body is said to have been removed from its original burial place to a grave beneath the pulpit of the Montego Bay Baptist church. The location of his gallows is now the Sam Sharpe Square in Montego Bay.
Although an ostensible failure, Sam Sharpe's rebellion was the final hammer blow on the door to freedom. If moral arguments were not sufficient, the threat of more such rebellions made slavery obviously untenable. On August 29, 1833, less than two years after Sharpe's death, the House of Commons passed the Bill to free all British Empire slaves.
#5 Norman Manley Allrounder of Excellence
For Norman Manley, achievement of excellence was the norm; he was a world class high school athlete, Rhodes scholar, decorated World War I military hero, prize man of Gray's Inn, acknowledged as the Caribbean's finest legal mind, and the first Jamaican to appear before the Judicial Committee of the Privy Council.
His wife, and incidentally first cousin Edna as their mothers were sisters, was the country's most important sculptor, and a pioneering leader of Jamaica's indigenous artistic movement. Their home Drumblair was the hub of the nascent nation's cultural activities, and a gathering point for its leading intellectuals. He was for a time the Gleaner's music critic.
Norman Manley was incomparably the greatest lawyer in Jamaican history. A visiting colonial authority concluded 'Whenever a man in this country gets into trouble, he first flies to Mr Manley, and if Mr Manley is already retained, he next flies to Cuba'. Hotheads often threatened 'I will kill you and get Missah Manley to get me off!'
He was habitually retained by large firms to handle their affairs on a permanent basis, meaning he often fought cases on the employer's behalf. This made some claim unfairly that he was against the workers' interests.
Popular legend has it that when Marcus Garvey was convicted and jailed because of a plank in his People's Political Party platform in 1929, that Manley was the prosecuting lawyer. But the case Manley won against Garvey was a suit defending a woman against libel in the UNIA Blackman magazine.
In 1937 Manley founded Jamaica Welfare, the first large-scale social welfare organisation in the island. It originated from suggestions he made to United Fruit Company president Samuel Zemurray, while acting as lawyer for the Jamaica Banana Producers' Association. Zemurray offered one cent per stem of United Fruit's Jamaican banana exports, 'to form a fund to be administered by an organisation to be created… for the good and welfare of the people of Jamaica, with emphasis on the rural people'. With the banana export trade at its height, the initial amount was over US$250,000.
Jamaica Welfare's program consisted largely of practical adult education, co-operative training, cottage industries, and group activity in agriculture and manufacturing. After the 1938 disturbances, the British government adopted it as the model for improving the people's welfare throughout the troubled West Indies.
Manley tended to be reserved and formal, and did not suffer fools gladly. Theodore Sealy described him as 'Gamin and genius, shy yet arrogant, coldly analytical yet given to much emotion'. In his own self-analysis 'I suffered from a quick flaring temper which it took me half a lifetime to control. Indeed, I doubt if I ever learnt. Constant, inhibiting violent efforts at control gradually wore it down till it seemed to disappear, with its place being taken by a sort of arrogant indifference which was eventually mistaken for the real me.'
He was born to a black father and white mother, and his early years were filled with 'stress and gore'. 'I grew up as a bushman. I earned my pocket money cleaning pastures and chipping logwood. I would go out in the morning… and get home late at night after 12 to 14 hours on the constant move. The result was that I was tough as hell and developed a stamina I have never seen surpassed… till I was 70 I did not regard a 15 hour day of concentrated work as excessive'. He lost his father when very young, his mother in high school, and his brother in the trenches of World War One, where he himself won a Military Medal for bravery. Some claim the colour prejudice Manley encountered in the army made him anti-British, but his unfinished autobiography contradicts this.
In September 1938 Manley was invited to head the country's first major political organisation, the People's National Party, by party architect O.T. Fairclough. He was elected Chief Minister in 1955 and 1959, and led the negotiations for Jamaican independence from Britain in 1962.
No elected Jamaican government since 1944 has tried to entrench itself, nor had its legitimacy challenged, which in the end are the true tests of democracy. Every ruling regime has allowed mostly free and fair elections, all defeated parties have unhesitatingly accepted the will of the people, and peacefully awaited the next electoral contest. That above all is the magnificent legacy of Norman Manley and his cousin Bustamante.
On Manley's death Theodore Sealy wrote:
'Norman Manley… had the mind and measure of the truly great anywhere… his faults lay mainly in his virtues — his righteous sense of consistency; an almost fanatical loyalty to those who marched the rugged course of life beside him; a commitment to principle even when in political terms the practical course was sharply different on the nation's compass.'
#4 Alexander Bustamante – Fearless champion of the people
In 1938 demonstrations swept across the island. The worldwide great depression had made the normally hard life of the Jamaican peasant often intolerable.
St William Grant, one of Marcus Garvey's followers, drew large crowds to his Back-to-Africa speeches in the downtown Kingston Park now bearing his name. But hard times turned Grant's attention to more urgent issues of working conditions and unemployment.
Alexander Bustamante made his first public address at one of Grant's UNIA meetings. Christened Alexander Clarke, he had left Jamaica when about 20 in 1904, and travelled widely in the Americas and perhaps Spain and Morocco — only he knew for sure and his accounts varied. Somewhere along the line he adopted the name Bustamante.
When he returned to Jamaica in 1934, he was greatly disturbed by the poverty in Kingston, the ineffectiveness of the Legislative Council, and the lack of concern among employers.
In April 1935, Bustamante sent a letter to the Gleaner criticising its opposition to a planned demonstration. He argued that 'Hungry men… have a right to call attention to their condition and to ask of people fulfilment of promises made to them, so long as they do so without using violence.'
greatest men people in JamaicaOver the next 18 months he wrote maybe 100 more letters on strikingly varied topics, which gained him a national reputation as a defender of the poor. He displayed an impressive range of knowledge, an ordered mind, and a lively wit. He proved the most effective letter writer in the country's history
He travelled 'from Port Morant to Negril Point investigating the conditions of the land'. In early 1938 he wrote to British Parliamentarians and newspapers, calling for a Royal Commission of Enquiry into the dreadful condition of the Jamaican masses. Sympathy for the poor and unemployed, criticisms for the rich and uncaring, no hesitation in attacking the colonial administration, a strong attachment to economic liberalism, with a corresponding marked antipathy for monopolies — these were the positions that emerged clearly in Bustamante's letters, and which he adhered to throughout his political life.
Of mixed blood, with a 'whiteish' father and 'dark-skinned' mother, considerations of race and colour placed the young Bustamante as a member of European Jamaica, as opposed to African Jamaica. Yet his 'poor white' rural upbringing meant he understood and identified emotionally with the peasant working class.
When St William Grant first invited Bustamante to speak on a UNIA platform, some actually objected to his colour. No Jamaican of his complexion had ever been seen at a street meeting making common cause with the poor. But once he showed himself willing to openly criticise the colonial authorities and even risk physical harm for the rights of the oppressed, an unbreakable bond was established between Bustamante and the workers.
When disturbances rocked the island in 1938, Bustamante swiftly became the champion of the Jamaican masses. The situation first came to a head in May on Frome sugar estate, where police opened fire on a crowd and killed four demonstrators.
The unrest spread to the capital. On the morning of May 23rd 1938, Bustamante observed: 'This is not a military revolution — it is merely a mental revolution'. He and St William Grant led a march to Parade, where he addressed the huge throng. Lady Bustamante, then Gladys Longbridge, relates what happened next:
'… a squad of policemen… marched on the crowd… Inspector Orrett pulled his revolver and gave the command… "Click your heels and aim!"… Baring his chest Bustamante confronted Orrett and declared, "If you are going to shoot, shoot me, but leave these defenseless, hungry people alone". The Inspector was speechless. The policemen lowered their arms… Before Orrett could say another word, Busta called upon the people to sing 'God Save the King'… [and] moved away with the large crowd following him.
I then realised something new was happening in Jamaica; the poor had passed the stage where they could not be bullied and pressed into submission by guns and bayonets.'
Bustamante swept to victory in Jamaica's first universal suffrage elections in 1944, and became the nation's first Prime Minister in 1962.
Gleaner columnist Morris Cargill later put it thus:
He might have been a communist agitator, concerned not with Jamaica, but with Russian imperialism. He might have been a Marxist bent upon the destruction of the only economic system… appropriate to our continued development. He might have been a Latin American type of Fascist, bent upon setting up a personally profitable dictatorship. That he was none of these, and that he brought, or helped to bring, self-government and a new life to this country without at the same time disturbing unduly our historical or economic continuity is something that should stand to the lasting credit of Sir Alexander and the good sense of our people.
#3 Miss Lou — Mother of Jamaican culture
Louise 'Miss Lou' Bennett is the most universally loved personality this nation has ever produced or likely will ever produce, engendering unabashed feelings of pride and affection in Jamaicans of all ages, colours, classes and creeds. For over 50 years, she tirelessly championed Jamaican folk customs on stage, radio and television. Miss Lou is also the most popular poet in this island's history, outselling all others put together.
Her impact on the national psyche was perhaps even more important than her artistic legacy, for she almost single-handedly gave Jamaicans pride in their cultural heritage. In musicologist Marjorie Whylie's words:
'All of us are the inheritors of her groundwork… Folk music only gained respectability after Louise came back from London and sang 'Rookumbine' on RJR…'
Her island-wide travels gave her an unsurpassed knowledge of native folklore. She collected and studied folk songs, ring-games, Anancy stories and riddles, becoming a primary resource for scholars and artists. Marjorie Whylie called her 'the most generous soul I know… always so ready to assist with material or contacts or pointing you in a direction for tracing further material… a casual social visit with Louise… would make a good anthropological study.'
As her Norman Manley Award for Excellence citation noted: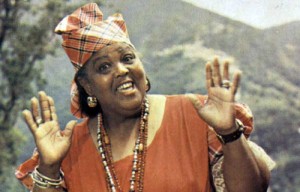 'It is this truth grounded in her faithful observation and a genuine empathy with Jamaican folk life which makes Louise Bennett stand way above all her colleagues… Her deep knowledge of Jamaica has helped to give her literary and theatrical work an authenticity that few other Jamaican artists have achieved.… Many of our other significant artists, working in their various media, are accessible only to an elite… Louise Bennett has achieved an excellence while reaching the entire society.'
'But she does not flatter us. She is forever exposing our pretenses, our idiocies, our cosmic disproportions. She measures us against the values of common sense, of sanity, of reason; and yet in her compassion does not seem beyond us all. She speaks not so much to as for the whole Jamaican society.'
And as Rex Nettleford says:
'… those who indulge her rumbustious abandon and spontaneous inducement of laughter will sometimes forget that behind the exuberance and carefree stance, there are years of training — formal and informal — as well as this artist's own struggles to shape an idiom.'
It was Miss Lou's insistence on the inherent worth of Jamaican expression that established in the populace a respect for their language and tradition — the belief that 'patwa' wasn't merely corrupted English but a creation of immense vitality and humour. In her own words:
'Some thought Jamaican-English was vulgar, out-of-order language. It came out of the African heritage and at that time anything African was bad: hair, colour, skin, language, music. But I thought it was fascinating. Everything had a rhythm. It was a creation of the people. One reason I persisted in writing in dialect in spite of the opposition was because nobody else was doing so, and there was such a rich material in dialect that I felt I wanted to put on paper some of the wonderful things that people say in dialect. You could never say "look here" as vividly as "kuyah."'
Her dialect performances were the direct precursors of deejay music and dub poetry. Tony Rebel, who uses Jamaican dialect as effectively as anyone in reggae, acknowledges Miss Lou as his greatest influence. While Luciano puts it this way:
'She has worked forward into my consciousness that I can be proud of my culture and proud of myself.'
No single individual has been more responsible for the Jamaican nation's emancipation from colonial mental slavery.
Many people associate Miss Lou primarily with comedy. But while we rightly treasure those who bring the gift of laughter, we should not forget the serious side of Louise Bennett. Only someone with a very strong sense of racial pride and self-belief could have withstood the torrents of criticism leveled at her when she first championed the language and culture of her people.
Jamaicans today are happily at ease with themselves and their customs, but it took a true 'lion heart' to speak out as she did at the height of 'only white is right' colonialism. And though in much of her work she did 'tek kin teeth kibber heart bun' (Take skin teeth [a smile] cover heartaches), in poems like 'Dutty Tough' she addressed the issues of her day as seriously as any reggae artist and deejay ever has.
Sun a shine an pot a bwile, but
Things no bright, bickle no nuff
Rain a fall, river dah flood, but,
Water scarce and dutty tough.
In Tony Rebel's words 'Miss Lou was a sort of female Marcus Garvey'. She was a giant on whose shoulders all reggae artistes and dub poets now stand.
#2 Bob Marley – Reggae Super Hero
Bob Nesta Marley is the most famous figure this country has produced.
(Though Usain Bolt might be usurping him in places like China and India.) Mention Jamaica, and foreigners who scarcely know in which hemisphere the country is located will cry in recognition 'Bob Marley!'.
He is increasingly becoming to Jamaica what Robert Burns is to Scotland — most famous son, national bard, and symbol of cultural identity. The parallels between the two great Roberts are uncanny. Both were born to humble circumstances in a small country with a few million inhabitants. Both were free spirits who praised the intoxicating pleasures of ganja and whisky respectively. Both fathered numerous children from multiple mothers — roughly nine from seven for Marley and eleven from six for Burns. Both penned world anthems, with 'One Love' being arguably the closest modern equivalent to 'Auld Land Syne'. And both died young, Marley at 36 and Burns at 37.
But it's not just music that has made Marley a great international icon. His songs are inseparable from the handsome, dreadlocked, mixed race, almost Christlike visage that made him a visually ideal global icon. Being obviously not pure anything meant every race could identify with him, in a way often not possible with someone like say Peter Tosh. And in our still western media dominated world, those accepted by Europe and America become famous everywhere. If Bob Marley looked like Peter Tosh and vice versa, whose music would be more popular today? It's an interesting question to ponder.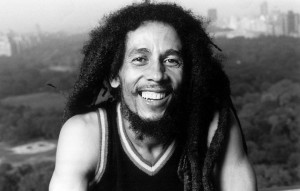 His remarkable wife Rita certainly played her role.
'I had so much faith in him. And this was why Bob remains I think so successful. Sometimes I hate to say it. If there wasn't a force. But it's a fact. Cause look at Peter and other singers who have been forgotten. Even Chris. When I say "Chris let us do a Legend tour and so" Chris said "Take it easy. Cause within another two years Bob is just was. They might be selling three hundred copies a year, but…". And I said "No, I am going to. And me and the Wailers and I-Threes put together this Legend tour and bring Bob live on stage on film. So instead of just put it in a cupboard, you realize this legacy is living.'
Then there is the martyr factor. In our image driven age, as the stand-up comics joke, dying young is a great career move. Most dominant twentieth century icons — James Dean, Marilyn Monroe, Elvis Presley, Che Guevera, Princess Diana for instance — died before 40, or in John F. Kennedy's case looked it. While their surviving contemporaries slowly dwindled into aged mortality, they in the public mind stayed forever young and glamorous. Watching Bunny Wailer in concert a few years back, some observers wondered how audiences would have reacted to a similarly grey and grizzled 60 odd year old Bob Marley.
Glory is a cold sun that warms no bones. But in the minds of the living, the early dead remain perpetually young and immune to the ravages of age — untarnished blank canvases on which we paint our dreams of the ideal. Marlon Brando was a better actor than James Dean, Eisenhower a greater leader than Kennedy, and Johnny Cash a superior artiste to Elvis Presley. But in the popular mind, the accomplishments of fat old Marlon, bald Dwight, and wrinkled Johnny just can't compete with handsome, sleek, air brushed Jimmy, JFK and Elvis.
None of this brings Marley's greatness into question, although some fervent admirers get carried away. The man was a singer and songwriter — who like all musicians produced the occasional lousy tune — not some latter day biblical prophet. He certainly never professed such a role for himself.
This has not stopped him becoming a posthumous international symbol of resistance against oppression. Guerilla fighters in all corners of the globe have testified to the inspiration they derived from Bob's Songs of Freedom. It's almost impossible now to imagine any march against injustice anywhere unaccompanied by strains of 'Get up stand up, stand up for your rights' and 'Emancipate yourself from mental slavery, none but yourselves can free your mind'.
Without doubt one of the 20th century's finest musicians, Marley's almost unparalleled global popularity seems to encompass all humanity. Americans, Africans, Arabs, Asians, Europeans, men, women, the young, the old, the middle aged – everyone seems to like Bob Marley's music. And his lustre simply keeps growing. In 2000 Time Magazine chose 'Exodus' as album of the century, and the BBC named 'One Love' song of the century. It's hard to top that for lasting global appeal.
#1 Marcus Garvey – Black Champion Of Vision And Destiny
No other Jamaican has had such a profound international impact as Marcus Garvey.
In an era that treated the idea of black inferiority almost as a given fact, Garvey shouted 'No!' in a voice heard across the planet. In Martin Luther King's words, Garvey was 'the first man, on a mass scale, to give millions of Negroes a sense of dignity and destiny… He gave us a sense of personhood, a sense of manhood, a sense of somebodiness'.
Garvey was a foreman at Kingston's largest printery when the 1907 earthquake devastated the city. Resulting financial hardships prompted the printers' union — Jamaica's first — to ask for better wages and working conditions. When turned down, they struck. Hoping he would keep the plant operating, the owners offered Garvey a pay increase. He refused and walked out with his men, who chose him to organise the strike. The strike was eventually broken and, blacklisted by private printers, Garvey took a government job.
In 1910 he began travelling across the Americas and Europe. Though he did not visit Africa, he kept abreast of African affairs, and made contact with influential Africans. He conceived the idea of one great international organisation of proud, educated and financially independent black people, who would take their place as equals on the world stage.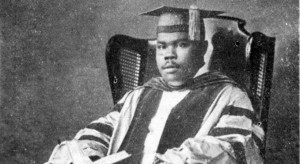 He returned to Jamaica in 1914, and on Emancipation Day August 1 launched the Universal Negro Improvement Association. The UNIA was dedicated to improving the conditions of black people the world over. Its famous motto was 'One God! One Aim! One Destiny!' Seeing a larger stage in the US, he moved there in 1916.
At its height the UNIA had an estimated four million members with more than 1,000 branches in over 20 countries, and is generally considered the largest mass movement in Afro-American history. Many major African political figures would recall being influenced by Garvey, including Ghana's Kwame Nkrumah, Kenya's Jomo Kenyatta, and Nigeria's Nnamdi Azikiwe. Much of the African National Congress leadership in 1920s South Africa belonged to the UNIA. So did Elijah Muhammad, who to a large extent patterned his Nation of Islam movement on the UNIA. Malcom X's father was a UNIA organiser, and Vietnamese leader Ho Chi Min attended UNIA meetings.
Like many visionaries, Garvey was not the most practical of businessmen. His Black Star Line Steamship Corporation, conceptualised to transport blacks back to Africa, proved a financial disaster. It also gave American authorities, who saw Garvey as a threat to the Jim Crow status quo, the opportunity to neutralise him. He was charged for fraud, given a five year sentence, and deported back to Jamaica in 1927.
Thousands hailed Garvey's return. The Daily Gleaner reported that 'no denser crowd has ever been witnessed in Kingston… Deafening cheers were raised'. In 1929 Garvey formed the People's Political Party and put forward Jamaica's first practical manifesto. It called for Jamaican representation in the British Parliament, a Jamaican university, a free government high school and public library in each parish capital, promotion of native industries, public housing, land reform, and minimum wage and eight hour day legislation.
Garvey also hosted lectures, debates, training courses and cultural programs at Liberty Hall, the first meeting hall in Jamaica owned and operated by blacks. Among those who benefited from these educational offerings were Sir Phillip Sherlock, Wesley Powell, Dalton James, Amy Bailey, and Father Gladstone Wilson.
The planter and merchant elite saw Garvey as a threat to their privileged way of life, and hounded him mercilessly. Gleaner editor H.G. Delisser led the vilification campaign, which was sadly so successful that many still believe Garvey never had a large following in his native land.
The PPP manifesto also proposed the impeachment of corrupt judges. This led to a contempt of court charge, and Garvey was jailed for three months, being released only a month before the national election.
Despite massive crowds, no PPP candidate was successful. Few Garvey supporters met the stringent property requirements that restricted the electoral list to less than eight per cent of the populace. The majority of these voters were black, but Garvey was not popular with the civil servants and small proprietors who dominated the voting list. He was also attacked by conservative black clergymen and teachers.The PPP defeat was perhaps more about class than colour.
As Garvey said afterwards 'The thousands who attended and cheered at the Party's meetings indicate that if you, the poor people had a vote, our Party would have been sent to the Legislature'. He called for full adult suffrage, but never lived to see it. Harried by the colonial administration, he emigrated to England in 1935, and died there five years later.
In 1964 his body was repatriated, and Marcus Garvey was declared Jamaica's first National Hero.